**Unfortunately, due to Coronavirus, we haven't been able to meet together and enjoy fellowship, but the work of Mothers' Union goes on. For more information email the Secretary on the following link: Susan Leach**
Vision, Mission and Values of Mothers' Union
The Mothers' Union was established in 1876. Its purpose was to encourage parents in caring for their children, not just physically and mentally but also spiritually. From the outset it recognised that strong relationships and the role of family, however defined, are crucial in building healthy communities.
Our vision
Whilst the ways in which we operate to fulfil that need may be different from that of the world of the 19th century, our vision today is still of a world where God's love is shown through loving, respectful, and flourishing relationships. This is the essence of our work.
Our mission
We aim to show our Christian faith by the transformation of communities worldwide. We can do this through the promotion of stable marriage, family life and the protection of children. This is our mission. It is what we aim to achieve.
Our values
There are more than four million members of Mothers' Union today in 83 countries around the world. Each member subscribes to the same values; the moral and ethical codes that are central to the ways in which we operate.

Firstly, we are firmly rooted in a voluntary ethos centred on mutual respect and collaboration.

Secondly, our governance, leadership, and programmes are driven by and undertaken through members within their own communities worldwide.

Thirdly, we work with people of all faiths and none.

Mothers' Union is a Christian international family charity with over 4 million members dedicated to promoting marriage and supporting family life. It realises that the wellbeing of the family cannot be separated from the welfare of wider communities and therefore undertakes groundbreaking community work in over 83 countries. Whilst members come from all denominations, Mothers' Union as an organisation is usually based in the context of the Anglican Church.
Wherever they are in the world, members all strive towards one unified vision, that of a world where God's love is shown through loving, respectful and flourishing relationships.

Promoting social justice is key for Mothers' Union: speaking out on issues which adversely affect family life, common threads across different countries are gender equality, gender based violence, early marriage and tackling poverty.

In the UK, Mothers' Union campaign against the commercialisation and sexualisation of children; advocate the Right to request flexible working for all employees and on parental leave.
Our Branch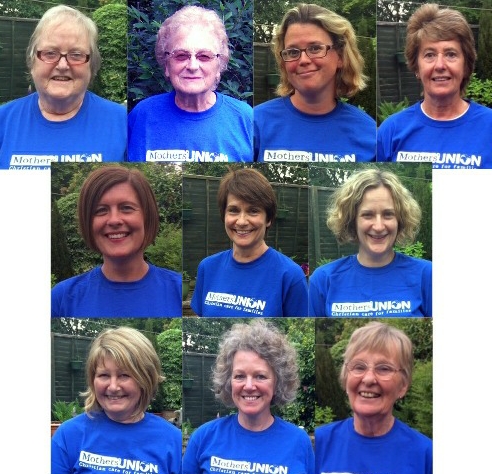 St Alphege Mothers Union is a vibrant and friendly community. We meet on the First Thursday of the month 1.30pm (unless otherwise stated) in the Oliver Bird Hall.
Here is our current newsletter.
If you'd like more information please contact the Branch Leader Chris Thorp. To find out more about MU see the Birmingham Diocesan MU and MU Worldwide.