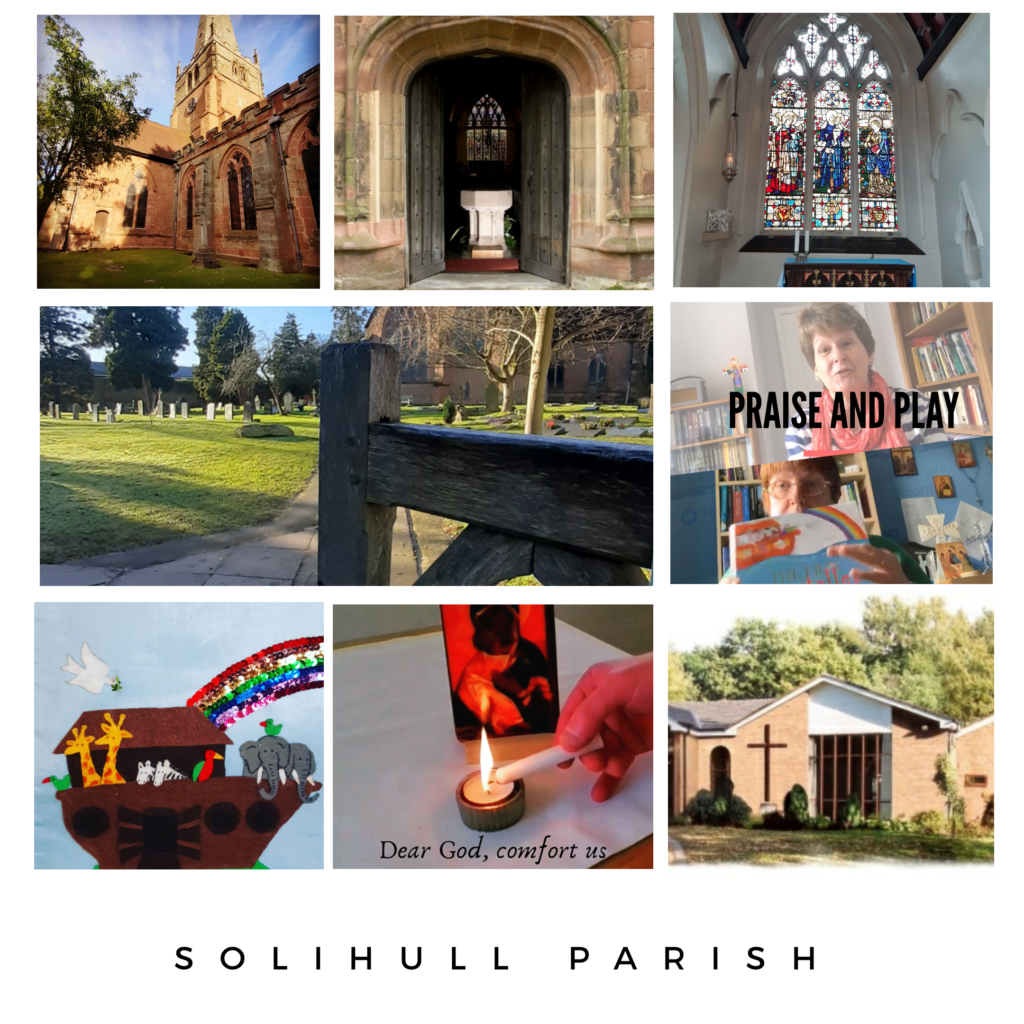 Welcome
Parish Office (0121) 705 5350 email: Parish Office
For urgent Clergy support call Simon Marshall (0121) 704 4730 or the Revd Sue Chandler 07970 791288.
Pewslip, Parish Magazine & Families Newsletter are all
available to download below.

Worship
Booking is not required, however we will continue with mask wearing* and hand sanitising on arrival. Services will continue to be livestreamed. Private prayer in St Alphege Church, Thursday 10am to noon.
* where medical exemptions are not applicable
Services Sunday 24 October
St Alphege, 8am Said Eucharist, 10.30am Sung Eucharist
St Helen's 10am
St Michael's at Sharmans Cross Junior School 10.30am
Choral Evensong Sunday at 5pm, St Alphege
The Junction on Zoom for young families 9.15am Link available weekly from Linda Hicks
Sunday 24th October – Bible Sunday
You are welcome to watch the St Alphege and St Helen's services by clicking on the play button in the middle of the images below. 
To make a financial contribution to our work please follow this link. Tha
New Appointment
We are delighted to announce the appointment of Christopher Martin Thomas as our new Director of Music and Organist at St Alphege, Solihull.
Christopher Martin Thomas studied at Bristol University, Berliner Kirchenmusikschule, Cambridge University and Kings College London. His tutors included Nigel Davison, Karl Hochreither, Renate Zimmermann, Michael Overbury and Nicholas Danby (organ); Martin Berhmann (choral conducting) and Anita Marvin (voice). Currently Music Director at St.John the Baptist, Keynsham, and vocal coach at St.John's Junior School, Christopher held similar church appointments at Waltham Abbey, St.John's Hyde Park, St.Mary's Wimbledon and Holy Trinity Geneva. During these appointments he conducted visiting choirs in the cathedrals of Geneva, St.Paul's, Worcester, Southwark and Orvieto; and at Beverley Minster and Christchurch Priory. He also conducted the Schola Cantorum of St.Ignatius College at a mass in St.Peter's Basilica, Rome, in 2004; and in 2014 he conducted masterclasses with the Tchaikovsky Chamber Choir of Izhevsk (Tchaikovsky's birthplace) and with the Udmurtia Girls' Choir. Christopher also teaches music privately, and has held school music directorships in Derby and London, directing musicals including The Sound of Music, Oliver and Les Misérables.
Christopher is also active as composer and lecturer, having been invited as visiting lecturer to the Royal Academy of Music, London Bach Festival and London School of Theology. Much more about him can be seen and heard on his website: www.octavaconsort.org
Wednesday Lunchtime Recitals
Wednesday lunchtime recitals have now restarted. Performers are listed on this page.