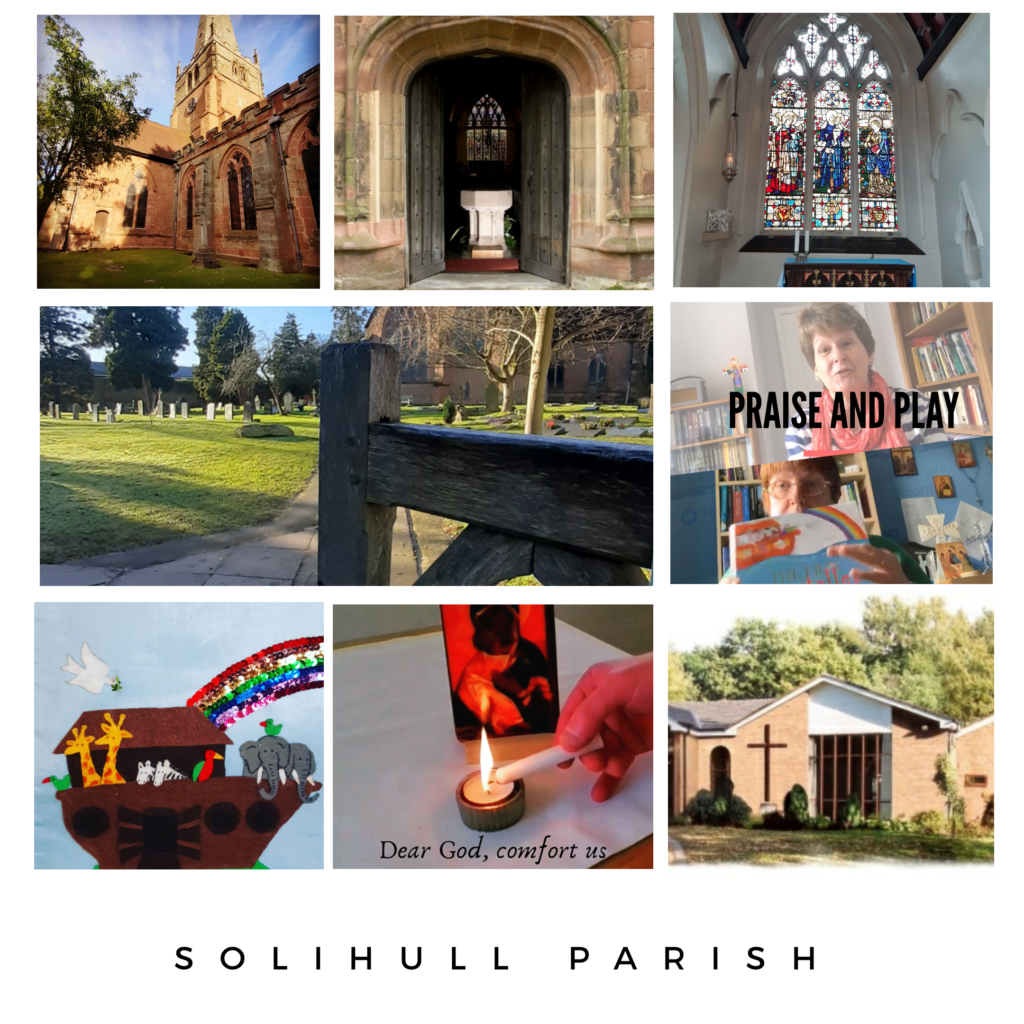 Welcome
Access to all our social media: http://Linktr.ee/solihullparish
Weekly pew slip/monthly Parish Magazine/Families Newsletter available to download below.
Parish Office (0121) 705 5350 email: Parish Office
Currently homeworking. For urgent Clergy support call the Revd Simon Marshall (0121) 704 4730 or the Revd Sue Chandler 07970 791288.
Worship
The booking of services remains essential, for St Alphege email the Parish Office or call (0121) 705 5350. St Helens & St Michael's have a TryBooking page at: St Helen's Eucharist or call Beryl Moppett on (0121) 705 0337. We will share Sunday services for those unable to attend in person and St Alphege will continue to be open for private prayer from 10 am to 12 noon on Thursday mornings.
Sunday 27 June
St Alphege Eucharist service 10.30am St Helen's & St Michael's Eucharist services 9.30am/11am
Choral Evensong Sunday at 5pm with small congregation (please book here or join online) and Wednesday online only live streamed at 6.30pm on Wednesday.
The Junction on Zoom for young families 9.15am Link available weekly from Linda Hicks
Monday to Friday
Midday Prayer for Monday 21st June: please click here.
Dwell Service on Wednesday 23rd June – link to follow.
Choral Evensong on Wednesday 23rd June – link to follow.
Midday Prayer for Friday 25th June – link to follow.
Wednesday Lunchtime Recitals
We are delighted that Wednesday lunchtime recitals can now resume, with Covid-19 safety measures in place. Please visit this page for further details.
Sunday 20th June – Trinity 3 – Fathers Day
A service for St Helen's and St Michael's will be recorded and made available below.
The Eucharist from St Alphege will be live streamed at 10.30am. You are welcome to join the service online – please click on this link.
Choral Evensong will be live streamed at 5pm from St Alphege Church.
To make a financial contribution to our work please follow this link. Thank you.